We are excited to be part of the CELEBRATION OF SMILES DAY campaign.
Roberto Falck Photography is collaborating with PPA Charities (Professional Photographers of America) to raise awareness and funds to help Operation Smile.
Operation Smile is an international children's medical charity with a presence in more than 60 countries that provides free life-changing surgery for children and young adults who are suffering from facial deformities such as cleft lip and cleft palate.
It takes as little as $240 to help fund a single surgery performed by the volunteer medical professionals of Operation Smile.
This is a life changing operation!
Read more about Operation Smile HERE.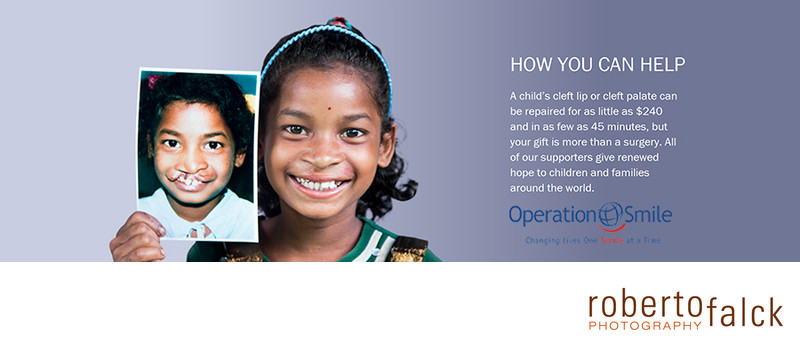 What is a Celebration of Smile Day and How does it work?
Roberto Falck Photography will offer the gift of an individual mini portrait session and a desk-size portrait in exchange for a $24 donation to PPA Charities, which has chosen Operation Smile as its charitable partner.
For every 10 individuals we photograph, another child will receive the gift of surgery!
It costs as little as $240 for Operation Smile's medical volunteers to provide a life-changing surgery that can take as little as 45 minutes. One hundred percent of each donation will go to Operation Smile.

We also believe that our Celebration of Smiles Day is a wonderful way to teach children the value of reaching out to others. Even small children can understand the importance of Operation Smile's work, and they are eager to help these needy children. We hope you will join with us in helping to make this vital work possible, and we promise to create a portrait that you will treasure.
For as little as $240 Operation Smile can change a child's life by giving the gift of surgery.
ANSWERS TO SOME QUESTIONS:
What is a mini-session?
A mini-session is a short version of our regular portrait session. It would typically take around 15 minutes. It is limited because of the time constraint, but it gives our subjects a good taste of what a regular session can be like.
Regular sessions are done either on location or in studio and last around 1 hour. You can read more about them HERE
I have a location and want to host a Celebration of Smiles Day. What do I do?
If you are a school, a business that works with children or a person with a huge heart that wants to help, we are delighted to collaborate!

CALL US at 718-230-0718 and we can brainstorm the best way of working together.
What is the pricing for the mini-session and products during a Celebration of Smiles Day?
Mini-session donation fee:

$24 minimum donation per person we photograph.
Finished Products:

A desk-size portrait (Gift Print) is included in your donation of just $24.

In addition, we offer a variety of products that we will go over before the viewing and purchasing appointment (read below for details). You can view our Product Guide to have an idea of the products available.
Roberto Falck Photography will also donate to Operation Smile 5% of all sales of additional products sold through mini-sessions.
*** A phone meeting will be scheduled to go over all details and answer any questions prior to the mini-session.
How do we order prints?
We will schedule your Viewing and Purchasing Appointment a few days after the mini-session. This will take place in our Studio.
We will confirm with you the exact time prior to the session.
What is a viewing and Purchasing Appointment?
This is the time that we will show you the images from the mini-session. You will choose the desk-size portrait (Gift Print) included in your donation and you will also have an opportunity to order additional images if you like. All your decisions are made at this appointment.
To help you with this, we will make suggestions based on your personal style and the style of your home. The purchasing appointment will take around one hour and is the only time you will be able to see your photos and make your decisions. If you need a partner to be there for that we welcome them to the viewing. Images are not put up online. In addition, it is best as a child free appointment.
There are different products that you can choose from. Examples of products are: Wall Portraits, Wall Collections, albums and gift prints (8x10 prints or smaller).
You will be able to see samples of these in the studio and will also talk to you about this over the phone.
What should my child wear?
Choose plain simple clothing. What the children enjoy wearing and you enjoy seeing them in, keeping in mind the final images will be presented on your walls in your home. No stars and stripes and as few logos as possible. You are very welcome to discuss this further with us depending on the look wanted.
What time should I arrive?
It is best if you arrive at least 20 minutes before your scheduled session.
Mini-sessions are approximately 15 minutes long and it is important that we have the full 15 minutes with each child.

It is a party so you are welcome to come early and hang out!. Please check with your host about the best time to arrive.